Specification of Steel Grating:
1. The shape of bearing bar: Plain type (may be omitted in the symbol of steel grating), Serrated type and I-Shape type
2. Bearing bar pitches can be 12.5, 15, 20, 30, 30.16, 32.5, 34.3, 40, 60mm, of which 30mm & 40mmare recommended.
3. Cross bar pitches can be 38, 50, 60,100mm, of which 50mm & 100mm are recommended.
4. Surface treatment: Hot-dip galvanizing, paint or other anti-corrosive coatings are available, of which hot-dip galvanizing is generally recommended.
5. Material: Q235 in line with GB/T700 steel
6. Tolerance
The allowed deviation of length is +0/-5mm, while the allowed deviation of width is +/-5 mm.
The non-perpendicularity of bearing bar is allowed no more than 10% of width of bearing bar.
Cross bar surface should not surpass bearing bar surface 1mm, beginning & end of cross bar should not surpass the end surfaces of two sides of grating 2mm.
7. Standard: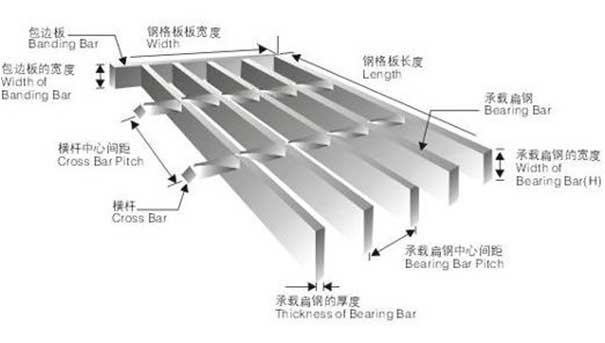 Introduction:
When strength and safety are paramount, in addition to load bearing capabilities, open area, and easy maintenance,Shanghai Metal
Corporation Stair Treads are the product of choice. "Bar" or formed "Plank" Grating style treads are suitable for any type of stairway application.
Our inventory offers you many options for your project.


Product information:
Galvanized steel grating widths: 2' or 3'
Galvanized steel grating lengths: 20' or 24'
Galvanized steel grating can be custom fabricated to meet job specifications
Available in light duty and heavy duty
Available galvanized grating spacing:
ADA: 7-2, 7-4, 11-2, 11-4
Standard industrial: 15-2, 15-4, 19-2, 19-4
Others available please inquire.
Available surface: Steel Surface on Steel
Available finish: Galvanized


Galvanized grating is available in:
Grade 2 (Medium) or Grade 3 (Coarse)
Available in welded, press-locked, swaged lock or flush mount construction
Available trim or load banded.
Standard tolerance: Mill (for stock sizes), + / – ¼'' (for customer specified sizes)


Applications:
Galvanized steel grating is widely used for flooring, catwalk, stair tread, fencing, vault bin floor, ramp, dock, trench cover, window and
machinery safe guard, wash rack, ventilation screen, storage rack, suspended ceiling, mezzanines/decking, pedestrian platform.