For Chinese job seeker
名佳利集团公司成立于2003年6月,由名佳利金属有限公司,名佳利建筑系统有限公司,名佳利国际咨询公司,名佳利实业有限公司组成,主要业务范围包括:各种金属制品,装潢建材产品,机械设备,并且承接国内外各种工程项目,机电改造项目等等,同时包括管理咨询,广告传媒,金融投资,公司拥有自营进出口权,为行业样板企业。
应聘人员应该了解的信息:
名佳利公司具有完善的管理制度,以及监督考核体系和晋升体系。公司办公面积1000多平方米(自有产权),公司设有:国际业务部,物流部,采购部,品质检验部,财务部,市场部,行政部,人事部,金融投资部,国际咨询,等等。
公司实行统一的最低基本工资,并按照各自的表现进行奖金和业务提成的分配,如果有特殊技能以及特殊贡献,公司设有专门的奖励,所有员工每年基本工资都有大幅的提升。
公司的管理理念是:用相对较好的薪资福利,找到相对较好的员工,采用相对规范的管理,提升公司运营效率,为公司创造更多的财富,更多的回报员工。
同时, 为丰富员工业余生活,公司正在组建艺术团和舞蹈队,我们也欢迎有艺术特长的精英加盟,同等条件下,可以优先录用。
我们欢迎各位随时随地到公司检查监督,提出你真诚的宝贵建议。
公司地址: 上海市东方路738号,裕安大厦20层,地铁2,4,6,9号线12号出口即到。
地址: 上海市东方路738号20楼 (2号线, 4号线, 6号线, 9号线世纪大道站12号出口即到)。
网址: www.ShanghaiMetal.com
电话: 021- 68756127, 58202753, 58316326, 58207039, 58309552, 58309368, 68756021, 68760737.
传真: 021-50819492
法律顾问: 上海市远东律师事务所
For Foreigner Internship Jobs
International Internship
Shanghai Metal Corporation (SMC) is happy to invite talented people from around the world to grow and learn with us.
We offer several internships and part time jobs for undergraduate or post graduate students. Shanghai Metal Corporation offers many opportunities to enhance their academic experiences, work in a dynamic environment, and be rewarded for outstanding performance through practical work assignments.
With us, you will be able to experience multicultural team work as well as showcase your individual abilities. You will be able to learn about international business and trade from a reputable company.
Apply now by sending us your resume or CV to our International Human Resources Manager at hr@shanghaimetal.com. Please write the desired position on the title of the email. Our Human Resources Department will contact you as soon as possible.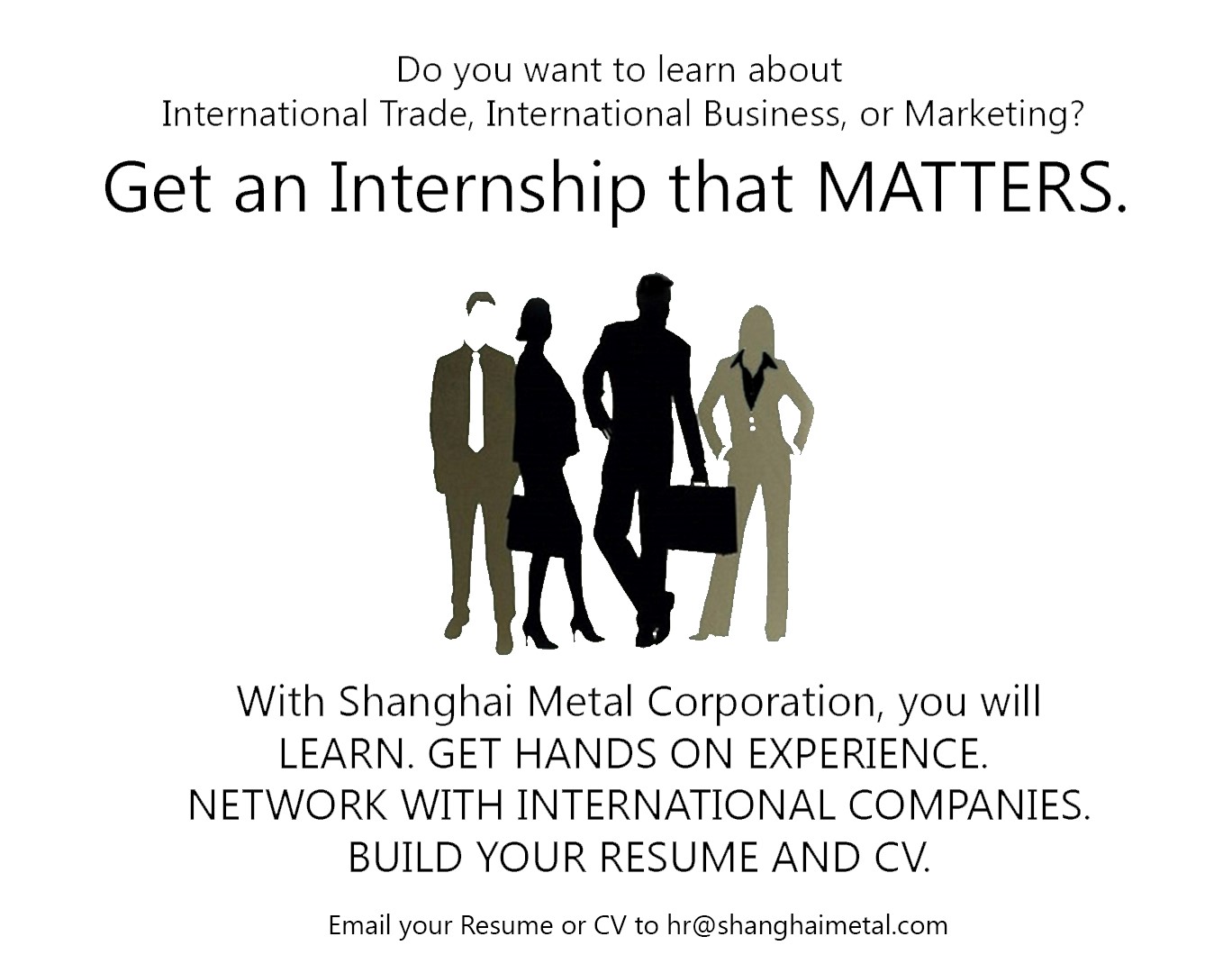 LOCATION:Shanghai
JOB POSITION:Research Marketing Analyst Intern
Requirements:
1. Bachelor's Degree or above
2. Preferred Degree in International Trade, International Relations, Economics, Marketing, and other related degrees
3. Native Speaker of English or Fluent in English.
4. Good Interpersonal Skills, Strong Problem Solving Skills with a Strong Analytical Mind, Detail Oriented
5. Ability to work efficiently under pressure within strict deadlines; Must be able to thrive in a very fast paced environment
6. Creative thinking and ability to work in a multicultural team
7. Excellent written and oral communication skills
8. Highly proficient computer skills including email, Word, Excel, PowerPoint
We offer:
1. Full support with visa-required documents
2. Initial training and day-to-day support with internship program (any questions, help in finding accommodation, transportation information in Shanghai)
3. Opportunity to join a dynamic community and develop trade and marketing skills
4. Ability to implement own ideas, suggestions, visions
5. Opportunity to participate in seasonal, cultural activities sponsored by Shanghai Metal Corporation
APPLY NOW
If you are interested, please email us a copy of your resume or CV and a recent photo to our International Human Resources Manager at: hr@shanghaimetal.com
For more information, please visit the company's www.shanghaimetal.com
(Data collected will be used for recruitment purpose only.)