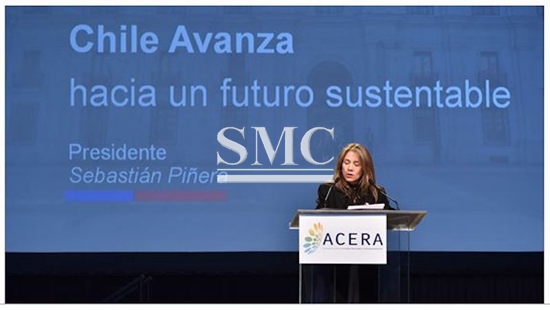 Early last week, the 5th Annual Dinner of the ERNC was held, an event organized by the Chilean Association of Renewable Energies (ACERA). In attendance were various representatives from government authorities, led by Susana Jiménez, Minister of Energy, as well as representatives of the electricity industry, native peoples and business world, among others. PiensaGeotermia, ThinkGeoEnergy's Spanish language service was also present.
The event took place in Santiago de Chile and was held within the framework of the 15th Anniversary of ACERA , an association that brings together all companies in the ERNC sector.
The focus was on how Chile can move towards becoming a 100% renewable energy country by 2050, with a matrix of de-carbonized electricity generation and modernization of its electricity market in order to realize a high penetration of distributed generation and energy efficiency. In her presentation, Susana Jiménez, Minister of Energy, presented the guidelines of her portfolio for the next four years and highlighted the commitment of the new government's administration to begin the process of decarbonisation of the electricity matrix, for which she announced the start of a Decarbonization Roundtable during the month of May 2018.
In another area, Minister Jiménez, indicated that future decisions are no longer exclusively focused on lower cost technologies, but that it is also time to take charge of safety issues and the adequacy of the electrical system, as there is an aggressive pipeline of variable renewable projects in development and to be developed.
It is in this context, the geothermal sector in attendance, represented at the dinner by the Geothermal Council, and geothermal companies and consultants, presented geothermal as an alternative that can take a competitive market position taking advantage of this conjuncture. It is likely the only technology that is distributed geographically throughout the country and that can provide the flexibility required by renewable variables, in addition to replacing coal. The challenge for developers is to have their projects sufficiently advanced so that they can materialize the market opportunities that arise in the future.
All this in line with the main results of the Geothermal Table , an instance organized jointly by the Ministry of Energy and the World Bank, with the support of Fundación Chile and the Energy Center of the University of Chile, which ended at the end of year 2017 and had a participation of the entire geothermal industry. One of the conclusions indicates that "in case of heating (especially coal) reduces its participation, either due to obsolescence, low competitiveness, or decisions of public or private policies; it will be necessary to replace its contribution with technologies that have the capacity to contribute to operational flexibility. This could be an opportunity for geothermal, as well as for other technologies … .. "