China Built a 100 MW Class Molten Salt Tower Type Photothermal Power Station
On December 27th, China's first 100 megawatt molten salt tower type photothermal power station was built in Dunhuang, Gansu Province. It has the largest concentrated scale, the highest heat absorption tower, the largest heat storage tank among of the world's 100 megawatts of continuous power generation, which marks that China has become one of the few countries in the world to master the technology of 100 megawatts of solar thermal power station. The picture took on December 26 shows that, more than 12,000-sided heliostats surround the 260-meter-high heat-absorbing tower in a concentric shape, like a huge "sunflower" blooming in the Gobi.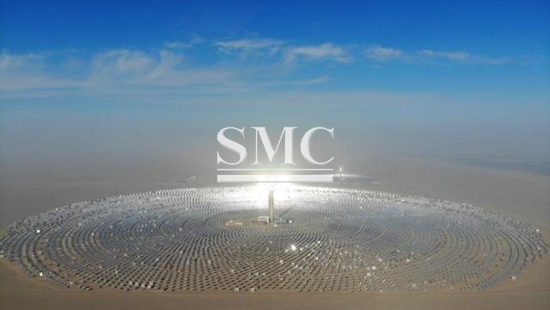 Different from ordinary photovoltaic power generation, solar thermal power generation can realize zero-emission stable power generation by using solar energy, thermal energy and electric energy conversion. This is the only 100 megawatt power generation project among the first batch of 20 demonstration solar thermal power projects in China, the others are all 50 megawatts.
It is reported that the molten salt heat absorption technology and steam generation system used in the solar thermal power station are independently developed by Shandong Beichen. The "steam generation system" is the key equipment for the entire power generation project. It is mainly used in solar thermal power generation systems. The solar heat stored in the molten salt is used to heat the medium water, so that the medium water is preheated, evaporated, overheated and reheated. High-quality steam can drive steam turbines to generate electricity. The successful development of the "Steam Generation System" has filled the domestic gap of the large-scale CSP Evaporation System, and related companies are expected to benefit.
or more information about electrical system, please visit: https://www.shanghaimetal.com/ElectricalSystem-170.html
For our full list of products that we offer check out our website here. Be sure to join the conversation in our LinkedIn group, Facebook, Twitter .
Try also our WeChat by scanning the QR code below.
Suzy Z.//SMC Editor