We offer different finishes of prepainted galvanized steel to satisfy all your needs. Let us know if you require a product or
service that you do not see listed here. We gladly to offer custom-manufactured sevice for your convenience.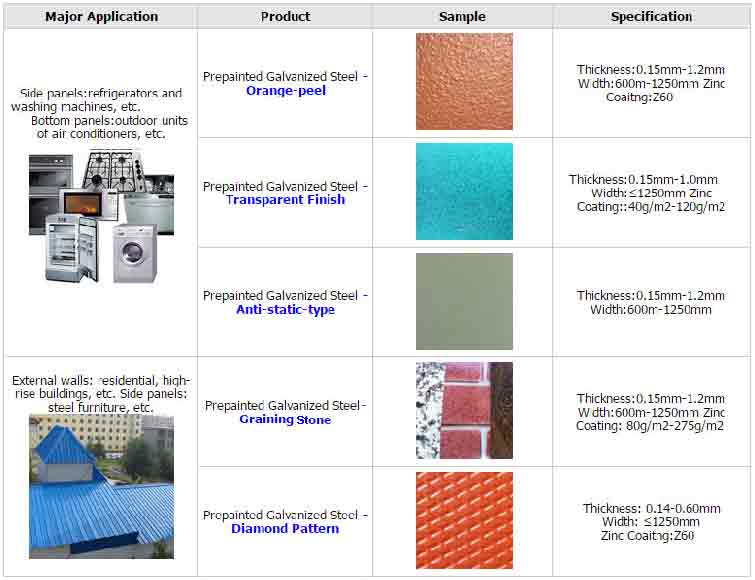 Introduction:

Shanghai Metal produces the widest range of Prepainted Galvanized Steel Coil& Sheet , Pre-coated Metal Sheet, laminated steel,

pre-coated steel, and anti-fingerprint steel.
PPGI is produced by coating two or more layers paint applied on Cold-Rolled, Galvanized Steel, Electrolytic Galvanized Steel, base-steel, and

then cut into sheets. It is also called prepainted steel, pre coated metal sheet.


1) Capacity: over 10,000 ton per month for pre-painted galvanized steel
2) Standard: AISI, ASTM, BS, DIN, GB, JIS
3) Thickness: 0.13mm - 1.2mm, all available
4) Width: 600mm - 1250mm, all available
5) Length: according to the customer's request
6) Coil ID: 508/610mm
7) Coil weight: according to the customer's request
8) Coating Weight: AZ50 to AZ150
9) Spangle: regular spangle, small spangle, big spangle
10) Color: any RAL code





Application of Prepainted Galvanized Steel Coil:
1. Contruction and building: roof, light steel roof structure, folding screen, elevator, stairway, vent gutter, agricultural warehouse, residential

precast unit,corrugated roof, roller shutter door, drainage pipe, retailerbooth, highway guardrails.
2. Electric appliance: refrigerator; washing machine; microwave; DVD;etc.
3.Agriculture equipment: refrigerator, washer, switch cabinet, instrument cabinet, air conditioning, micro-ware oven, bread maker.
4. Others: ventilation ducts, gutters and down spouts, Pre-paint and post paint applications, gutters and ceiling suspension bars, shutter door

rails. Auto parts, electrical appliances, refrigerator appliances, signs, automotive parts,vending machines, washing machines, showcases and

other structural use, roofing, commercial use.