Specification of Prepainted Galvalume Steel Coil (AZ150+PVDF, Anti-finger):
1) Capacity: about 10,000 ton per month for aluzinc steel
2) Standard: JIS3321/ASTM A792M
3) Thickness: 0.15mm-1.2mm, all available
4) Width: 600mm-1250mm, all available
5) Length: according to the customer's request
6) Coil ID: 508/610mm
7) Hardness:Soft
8) Coating: AZ30- AZ180
9) Color series: RAL color
10) Min trial order: 25 ton each thickness, 1x20' per delivery
11) Application: it is ideal for a wide range of applications, especially when superior atmospheric resistance is required, such as pre-engineered buildings, architectural panels, roofing, siding, cladding, and many other building components.
Structure Of Prepainted Galvalume Steel Coil (AZ150+PVDF, Anti-finger):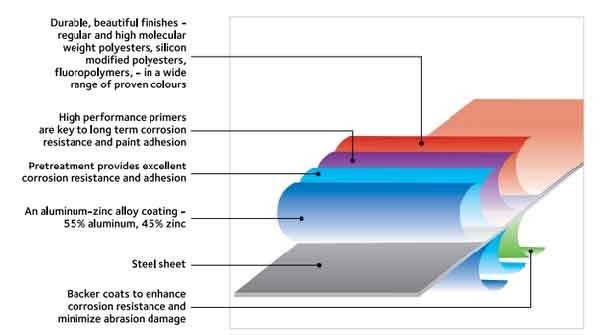 Production Facility of Prepainted Galvalume Steel Coil (AZ150+PVDF, Anti-finger):
Pay-off Section
The operating principles and functions are similar to the galvanizing process, except that it uses a joiner to fasten the steel sheets together.
Clean, Pre-treatment and Chemical Coating

The GI coil is cleaned at the degreaser tank, where oil and dust are removed by chemical means. The white rust formed on the surface can be removed at the brush assembly. The clean coil will then be coated with conditioner and chromate at the conditioner and chromate tank respectively, to provide better adhesion and corrosion resistance ability.
Prime and Finish Coating
A basic layer of paint, called primer, is applied on the chemical coater in order to strengthen the corrosion resistance and paint adhesion ability. The requested colours and specifications of paint will be applied at both the top and bottom of the primer coated coil to complete the painting work.
Prime and Finish Oven
The primer coating is further cured at the primer oven and cooled at the primer water quench to ensure the painted coil is completely cured. Similarly, the finish oven and finish water quench also serve to ensure that the paint applied is completely cured and cooled.